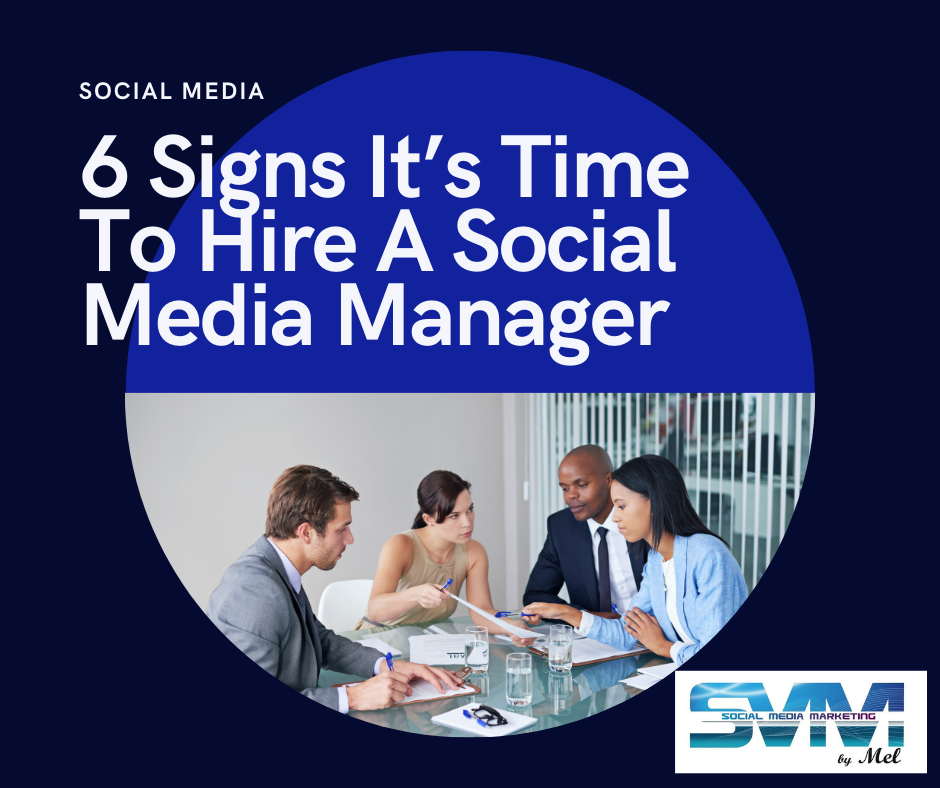 If you've been in business any length of time, you know how important having an active social media presence is.   Love it or not, Facebook is the biggest of all the social networks, by far, based on just about every measure.
Facebook has 2.74 billion monthly active users
That's an increase of 12% year-over-year from September 2019.
If there's one stat that proves the importance of incorporating Facebook into your marketing strategy, this is it. There is simply no other platform that offers this kind of reach.
Let's take a look at some signs it's time for you to hire a social media manager to handle it for you.
You're Ready to Invest More in Advertising
Social media advertising can bring in an entirely new group of customers to market to. If you're not savvy enough to craft the right kind of targeted campaign though, you could just be wasting time and money. A Social Media Manager has experience in using advertising to draw in more fans, so if you're not sure where to start, give them a budget and let them run with it.  Though it can be difficult to measure ROI on social advertising, it can be an effective way to drive fans and followers to your profiles, and send people to your website.
You're Working More than 40 Hours a Week Already
Running a business is hard work, and if you're in the growing stages where you need help with everything, but can't yet really afford to pay for the help, you're definitely working more than 40 hours a week. And adding hours for social media on top of that can be frustrating. Take some of the pressure off by hiring a Social Media Manager to your team.  This will help you combat burn out.
You're Neglecting Things That Make You Money to Manage Your Social Media
If you are making time for social media, it's important to make sure you're not neglecting the other things, especially ones that make you money, like closing new deals, or networking with other professionals. If spending time managing your social media presence is preventing you from taking care of other core business tasks and functions, then you need to outsource it to someone else.
Time is money! Let's say your time is worth $100/hr. If you're spending three hours a day trying to learn about how to make social media work for you, when you could be landing new clients to bring in three times that – it makes sense to hire someone at half that to free you up.
You're Not Enjoying It Anymore
If it's not fun – then you need to shift your focus to something else. Social Media Managers not only know what they're doing – they enjoy doing it. Yes we do!!!  They love building an audience and engaging with them to promote your brand. They don't mind running reports and brainstorming campaigns.
The key to success in social media is authenticity and transparency. People want to know you're a real person and they can trust you. When you start to feel annoyed and bored with your social media, your audience will feel it.
You Can't Keep Up with the Trends
The reality is social media trends, and digital marketing in general, changes frequently…sometimes daily. If you don't know anything about what's going on, and can't make the time to learn, and keep yourself up to date with industry news and blogs, then you should focus your efforts on things you know better.
You're Not Reaching Your Goals
Social media is a way to reach your customers and add value to their lives, and your business. If what you're doing isn't working to help you reach those goals, you need a professional to help you assess and adjust your strategy!
Do you see your name on any of these signs?  Then let's chat today about how we can partner up for your business success.  Call or text me at 281-701-9743 or email me at melissa_conkling@yahoo.com.
Mel