Do you have a friend that has a Facebook business page?  If so,  help your friend out by supporting their page by either giving them a 5-star rating or by writing a review for them.  If you have not actually done business with them,  I would suggest you just do the 5-star rating.  But if you have done business with them,  go ahead and write them a review.   This helps out their business and I am sure they will appreciate your support especially if they have received any negative reviews.  Yes,  unfortunately there are people who I like to refer to as trolls out there who love nothing better than to give a negative rating or review on a page for the heck of it.  And yes of course,  there might be that one customer who was not quite happy with your friend's service and voiced their complaint.    You can not get rid of these negative reviews but you certainly can bury them with positive ones.   You have heard the phrase 'kill them with kindness'?  That applies here too.  😊
I was doing a presentation the other day at a networking meeting and most,  if not all of the people in the room had no idea how to give a rating or a review of a page. At that point,  the presentation quickly became an interactive one.  😊  So I had them take out their cell phones and do it right there.    If you are like the people in my presentation and do not know how to give a rating or review on a Facebook page,  here is how to do it from your mobile phone:
How To Give A Facebook Page A Rating and A Review:
On your mobile,  Go to the person's Facebook page who you are giving the rating to.  You may need to type the page name in the 'search'  friend at the top of Facebook to locate it.
If you have not already done so,  "LIKE"  the page.  Then scroll down a bit too where you see their reviews section.
Click on 'Write a review'.   You should then see the picture below.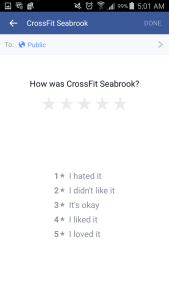 4.  Click on the '5-* I loved it'.   Next,  it will take you to the screen where  you can write your review.   If you do not want to give a review but only a rating,  you can just click 'Done' at the top right corner.   Be sure to give your own Facebook page the 5-star rating.  Yes! You can do your own! 😊
That is it! Very easy and you have helped your friend out(and yourself) .  They will probably return the favor or you could simply ask them to do the same for you.  Now go do it!
If you have questions on this process or Facebook in general,  feel free to contact me at 281-701-9743 or leave me a comment. 😊