You work hard to create the content for your Facebook page, Twitter page, Blog,  or whatever social media site you're on.  You get a comment(response) back on one of the post.  And they hear crickets back from you…..chirp, chirp,chirp!!  Nothing, nada!
Don't Like 'em & leave 'em!
You'll want to show the Fans of your Facebook Page & other social media sites that you are present and not a post-it-and-go kind of person. It is called being "social".
dr evil
When you just hit "LIKE" on their post, it's the lazy way of being social. Leave a response to let them know that you care and you saw their comment.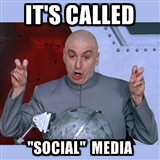 When other visitors scroll through your feed and see that you are actually replying to comments and engaging with your fans it goes a long way to give the impression that you actually care about your fans. They will be more inclined to comment as well.
So be "social" with your social media!
Here's an example of that being done below.